It humbles me and brings me to tears to think how much I have been loved by my mom and by the women who have come on my life's path.
My mama is an embodiment of the Divine Mother. Her love is deep, fierce and unconditional.
Mama Lili has a gift. She sees the best in a child and then knows how to nurture it, to grow it, to appreciate it, and to value it. She knows how to make everything seem doable, the obstacles magically seem minimized, and success in the smallest and biggest of things seems natural and attainable.
Mama Lili has infinite patience to love and to be present — to listen to every story, to be interested in every detail. She tells everyone "You are God's favorite child," and she really makes you feel that way — that you matter, that you are special and by your very existence you have already changed and will continue to change the world for the better.
Mama Lili makes you feel that you are the greatest blessing that has ever happened to her in her life.
I dedicated my book "Beyond Past Lives" to Mama Lili. I said, "To my mother, Liliana Angelova Paslieva. Your unconditional love and support for me mirrors the unconditional love and support that Source has for each one of us. Thank you! I love you!"
This picture is of me at 5 years old, exuberantly happy on the day when my sister was born, and dad and I were celebrating her birth.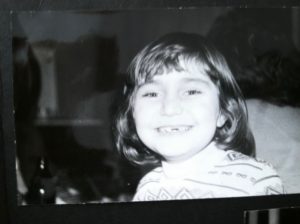 Today my sister Ellie has children of her own. I said to her, "I admire you for what a great mom you are! Your magical and powerful body not only created but gave birth to two amazing little people. And through the quality of your love and patience and great example you have raised two magnificent young women who will grow up to do extraordinary things with their lives and will always make you feel loved and proud!"
Mama Lili did not have it this good. She became an exceptional mom by finding within her and within God everything she did not receive growing up. And then she gave it away freely.
So today I ask that you pass that light that Mama Lili gave me and my sister, and that I have tried my best to pass onto you – that you pass it on to others. Because the greatest gift you can give another is your love. 
I am so blessed because I have been loved.
To Mama Lili, my sister Ellie and every woman who has come on my path who has taught me so much, given me of her love and care and made me a better person – Happy Mother's Day, today and every day. The world is a better place because of you!
I deeply appreciate you. And I bless you with an abundant increase in health, love, wealth, and dreams come true.
P.S. Please email me at [email protected] if you'd like me to help you manifest your dreams.