I saw it coming that Syracuse would loose the Big East tournament.  It is really more accurate to say that I felt it coming.  When I learned that Syracuse was to play against Louisville I felt this great sense of sadness and disappointment.
I have predicted the results of many a sporting events.  And here is the best part – I do not know anything about sports.  I do not follow any sports and I do not know any of the teams or the players.  I do not know if any of the teams are having a good season or if any of the players have performed well or have injuries.
So, how do I make these predictions?  It is really easy!  I just go with my first impression and say it out loud.  Sometimes it is not a feeling.  Sometimes it is a vision that comes to me.  For example, there was a game I heard about and I saw the fans of a blue team cheering and being happy on the left and the fans of a red team being sad on the right.  Not knowing what the colors of each team were I had to ask in order to tell who will win.
You may say that this is too easy because I have a 50-50 chance of being right when there are only two teams playing.  And you may be right, but to be honest with you, I see it as an opportunity for me to just listen to my intuition and use it as a good confidence booster.
I have a great story I can share with you.
On June 7, 2008 the Belmont Stakes were held.  Big Brown was the horse who was seeking to win the 12th Triple Crown in American Thoroughbred racing history. He was the winner of the Kentucky Derby and Preakness that year and was in perfect position to win the Belmont Stakes and become the Triple Crown winner.  He was sent off as the overwhelming 3-10 favorite in the field of nine other horses.
The weekend of the Belmont Stakes the love of my life was headed to Atlantic City to celebrate a friend's birthday and I was headed to Kripalu.  Kripalu is a retreat center for healing and yoga in Massachusetts. Neither him nor I gamble and I do not know anything, absolutely anything about horses. Yet, he said to me that there will be a horse race that weekend and because I have strong intuition he will call me and read to me the name of some horses and I need to pick one.  I agreed no wanting to spoil his enthusiasm.
A few minutes before the race began he called me and asked me if I am ready.  I did not feel ready but said: "Yes, I am."  Then he began reading names of horses to me and they all sounded incomprehensible to me, like a very long string of sounds that had no meaning.  Only one name caught my attention.  It was Tara.  As it turned out I did not even hear the name right the first time because he asked "Da'Tara?"  "I guess," I replied.  That was the best I could do. I did not feel particularly intuitive at that very moment.  I had no hunches, no visions, nothing. He replied with excited voice "Great!  I will bet $50 on it."  "Oh, no!" I said to myself  "we just lost $50!"  But again, I could not bring myself to stop him.
At that moment I was sitting outside, on a lawn overlooking a lake.  This is the view I was looking at.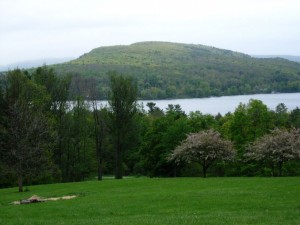 It was a very beautiful view and I decided that there could be no better place for me to relax and tune into the race and the horse I picked.  I focused on my breathing and let whatever may come to me.  And I felt the horse. I felt the excitement and freedom she felt.  I felt that whatever was stopping her before is quickly disappearing and with every second she was becoming more and more excited by her own speed and that was building even more speed and exhilaration in her.  I felt that she was unstoppable.
My love called me later and yelled with excitement in the phone "You won! You won! I am holding $700 in my hand that you won!"  I was not surprised that Da'Tara won.  But to win $700!??  As it turned out the odds were heavily stacked up against Da'Tara.  They were 38-1.  While trying to catch his breath he told me that he also bet on a horse, Denis of Cork, and that he guessed right that he will come in second so he won $200.  While giving him the crisp $100 bills, the bookie told him that if he had combined the two bets we would have won over $20,000.  It did sound like a big number but I have to say that $900 was not bad for two people who never gamble.
Later that night I shared with friends that we won at some horse race and they told me that it was not just some horse race.  It was the Belmont Stakes and that there was a horse, Big Brown, that was supposed to be anointed as the 12th Triple Crown winner.
This is a great story, isn't it?
I find it so easy to follow my gut feeling and predict the results of sporting events because I do not need to worry about being wrong.  If something I say turns out to be wrong I have a great excuse – I know nothing about sports.  Now I have taken predicting sports results as my own game.  I do it playfully, trying to catch that first hunch I get and just say what I feel.  And it has become an invaluable tool for me because I am learning how to distinguish between an intuitive feeling and my thinking of what the answer could be and best of all I am learning to trust my intuition and consult with it in everyday life, outside of sports.
Here is how you too can tune into your intuition:  Say to yourself that today you are going to listen to your intuition.  When you need to make a choice as simple as it may be, ask your intuition.  For example you may ask your intuition what you can have for lunch that will support and nourish your body or what route you can take on your way back home.  Do this very playfully and enjoy the feeling of the unknown, being flexible and acting on the spur of the moment.
Photo by marci28, mountains, Lenox, MA, a Creative Commons Attribution photo from marci28's Flickr stream.
This material is protected by Copyright Law. We are freely sharing it with you with the hope of inspiring you and bringing light to your life.
© Copyright 2009, Rethnea. All rights reserved.