Are you afraid of flying?
Patricia was too until she experienced a powerful healing with one of my guided regressions. Here is her email:
"Hi Mira, I am writing to tell you about the incredible experience I had today with one of your regressions!
Well, I start seeing myself. I see that I am an older woman, late 50s, 60s. Immediately I see myself in a metropolitan city in the 1950s/1960s. I am at an airport, and as you guide the audience into noticing their clothes, I see and feel myself dressed in "Chanel" I feel affluent. I am wearing gloves. When you ask if we recognize the people with us, I immediately notice my now husband is with me but he is my son in that life. It feels like he is in his 20s. I then start seeing the Eiffel Tower. I don't really get a clear understanding if I am in Paris, but the connection is clear. I am at the airport, and there is a flight between this metropolitan city and Paris. I then get the feeling that there was an "accident" or something went wrong with the plane. There was a malfunction. As you guide further in the regression, I see myself dying as this older lady, but I am not sure if I died in the plane crash or my son (current husband) did.
Immediately when I finish the regression I run to my computer and look up plane crashes in the 1950s and 60s with a flight between New York and Paris. And to my complete shock and amazement I find this on Wikipedia!!!
Immediately my heart started pounding as I read more and more articles on the incident!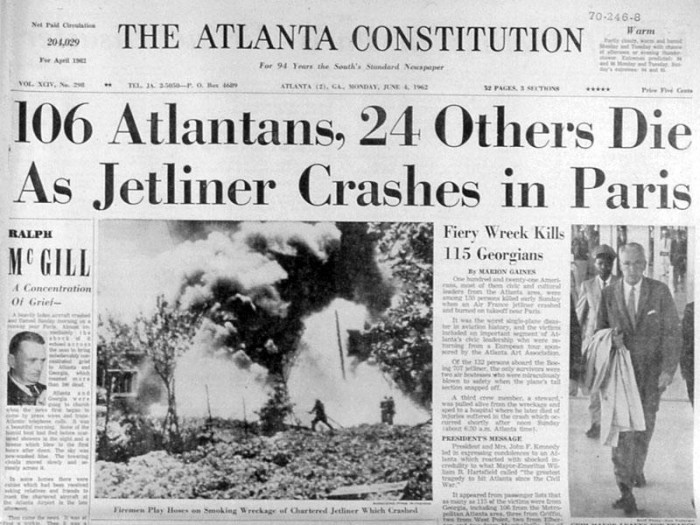 Immediately I understood why my higher self wanted me to review this lifetime!
My family and I are going on a trip from LA to Memphis, TN, tomorrow for my husband's brothers wedding and I was feeling nervous about flying!
My husband in fact since we got married, which was around the age of 25-26, started getting a big fear of flying despite the fact that before this, he flew constantly all the time. What is more perplexing as well, is that I AM an ARTIST!!! Never in my life had I painted until approximately 6 years ago, all of a sudden I decided I wanted to paint some grapes in my kitchen and all this start started flowing out of me!! I started painting nurseries and family portraits after that! I was completely amazed at my talent as was everyone else in my family since I had never done it before!
As you can see from this article the people that passed in the crash in France, were the affluent elite of Atlanta Georgia's art community, artists and philanthropists!
WOW!!!
I will keep you posted on my findings, but after this experience I feel that my fear of flying completely vanished!!
Just wanted to relate my story and thank you for this incredible experience!!
Warm regards,
Patricia"
What an incredible experience of healing and receiving answers through past life regression!
I researched the incident after reading Patricia's email and this is what I discovered:
"Air France Flight 007, a charter flight carrying the elite of Atlanta, Georgia's arts community, crashed on June 3, 1962 while attempting to depart Paris's Orly Airport. The 707 carried 122 passengers and 10 crew and only two survived. The crash was at the time the worst single-aircraft disaster and the second deadliest aviation disaster in history … The Atlanta Art Association had sponsored a month-long tour of the art treasures of Europe and 106 of the passengers were art patrons heading home to Atlanta on this charter flight."
Email me at [email protected] today to schedule your past life regression with me or work with one of my guided regressions.