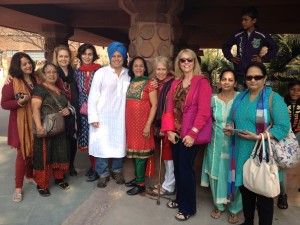 Every once in a while in life, a rainbow appears. It might not be the real thing with an arc of magenta, ruby, and emerald. But when a figurative rainbow shines, the resulting chemistry can mimic the real McCoy. That's what happened last week in Amritsar, Punjab, in northern India. An array of people, many in a rainbow of sari and turban colors, connected magically.
The scene was a sunny afternoon in the Jallianwala Bagh Memorial Park. The issue was finding a turban tutor. The area is Sikh country and men (and a few women) wear them as proud displays of their culture and religion. Turbans also seem to be a fashion statement here, and there's a display of colors for turbans worn, from deep rose to canary yellow.
Eugene, a New Yorker and one of the members of my tiny tour group of North Americans, wanted to immerse himself in an afternoon of Sikh culture. The crowning glory of the day would be to visit the opulent and holy Golden Temple. But the Big Apple native wanted to wear an authentic turban to the temple, not one of the handkerchief-type head covers most tourists tie on.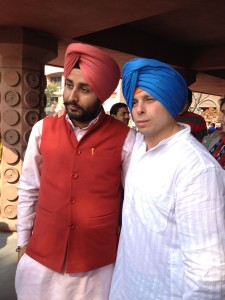 Enter Sheena, our tour guru from Toronto. Speaking Punjabi like the native she is, she coaxed a newly-married Sikh to wrap Eugene's head in 6 yards of royal blue linen/cotton blend. Sheena told us the guy was a recent groom because the woman with him had telltale bride bling bracelets stacked halfway up her forearms.
So the Sikh groom turned turban-master confidently pleated the length of fabric and worked his wizardry. While Eugene clenched his teeth on the fabric tip, the Sikh expertly wrapped the New Yorker's head. With each twist and turn, local Punjabis stopped to stare. After all, who was this American–a white guy–wanting to wear the regal-looking turban?
By the time Eugene's head was half-way encircled, at least 50 people were lingering, laughing, and outright gawking. They angled for the best view. They commented on how well his turban wrap was progressing. They smiled at the spectacle of the moment itself.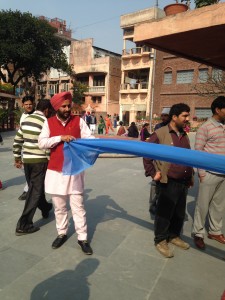 As the Sikh groom put the finishing touches on Eugene's turban, phone cameras clicked. People wanted shots of the real Sikh and his pseudo-counterpart. They wanted photos of our group together. They wanted photos two-by-two. They even wanted sari-clad Grandma to pose with Eugene.
Serendipity is my favorite word and that day, I saw it in full arc. By the time we'd finished the rounds of snapping photos, the rainbow magic of people mixing had peaked. Interesting what a pot of gold we discovered through the experience.
To read more of Holly Marihugh's writings and connect with her go to https://www.facebook.com/winnetka60093